What is a Phase I ESA?
Under the general standard ASTM E1527-21 a Phase I Environmental Site Assessment (ESA) is typically performed for a real estate holding that identifies potential or existing environmental contamination liabilities. The analysis, often called an ESA, typically addresses both the underlying land as well as physical improvements to the property. The Phase I ESA is generally considered the first step in the process of environmental due diligence. In general, the assessment is performed to uncover any environmental risks before purchasing a property. Phase I's are also performed to identify if any contamination has occurred since a last Phase I or if a property owner/manager rents the property to an entity that may have caused an environmental concern.
Standards for performing a Phase I site assessment have been promulgated by the US EPA and are based on the updated ASTM standard in Standard ASTM E1527-21. The actual sampling of soil, air, groundwater and/or building materials is typically not conducted during a Phase I ESA.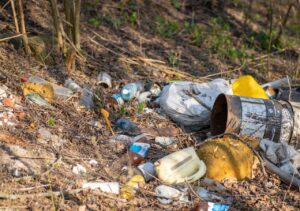 Phase II ESA
If a site is considered contaminated, a Phase II Environmental Site Assessment may be conducted, ASTM test E1903, a more detailed investigation involving chemical analysis for hazardous substances and/or petroleum hydrocarbons.
Phase III ESA
If the site has contamination, then a Phase III may be issued. A Phase III is the actual remediation/removal of the contamination.
Who should have a Phase I performed?
Any entity that is going to purchase land to be developed or is a commercial/industrial property, or leases land commercially, should have a Phase I performed. This reduces risk later on that may not have been known. Phase I's are known to release "Landowner Liabilities". A big misconception is a deed releases the landowner but it does not, environmentally.
Records Search with Risk Assessment (RSRA)
The Small Business Administration's environmental policy (SOP 50 10 6) has particular requirements regarding environmental due diligence on properties, which includes Records Search with Risk Assessment (RSRA), Phase I Environmental Site Assessments and sometimes additional investigation.
Records Search and Risk Assessment is a limited environmental due diligence tool intended to inexpensively evaluate Environmental Risk Level of a subject property as either being a "high or elevated-risk" or "low risk" for contamination. If the property is not determined "low risk", an additional environmental investigation may be required.
The Advantages of an RSRA over Phase I ESA
• Quick turnaround less than 5 days
• Lower Cost
What does a RSRA Report include? The Records Search with Risk Assessment includes:
• A review of government and historical records
• Aerials
• The property's NAICS code and
• A completed SBA Environmental Questionnaire for environmentally sensitive operations on the subject property or nearby properties.
All of the information is reviewed and analyzed by an Environmental Professional, who determines whether the property is "high risk" or "low risk" for contamination. When a RSRA report indicates "high risk", the SBA requires that the lender must then proceed to a Phase I ESA.
This report meets the Records Search and Risk Assessment scope of the Small Business Administration (SBA) 50 10 6.
Pros and Cons of Phase 1 and RSRA:
Phase I ESA
+ Does release landowner/lender liability (ILO)⁺A Technically exhaustive report
+ Physical site visit
+ All Appropriate Inquiry (AAI Rule)
+ The assessing firm must meet qualifications (EPA/ASTM/SBA)
– The long wait for reports (10 – 18 days)
– Expensive ($2,100+)
– Can be hard to understand
– Assessing firm must meet qualifications (EPA/ASTM/SBA)
Record Search with Risk Assessment (RSRA)
+ Reduces landowner/lender liability (ILO) Risk
+ Quick reports 5 days
+ Easy to understand
+ SBA Requirements met
+ Less expensive (750+)
– No physical site visit₋Does not release landowner/lender liability (ILO)
– Limited screen